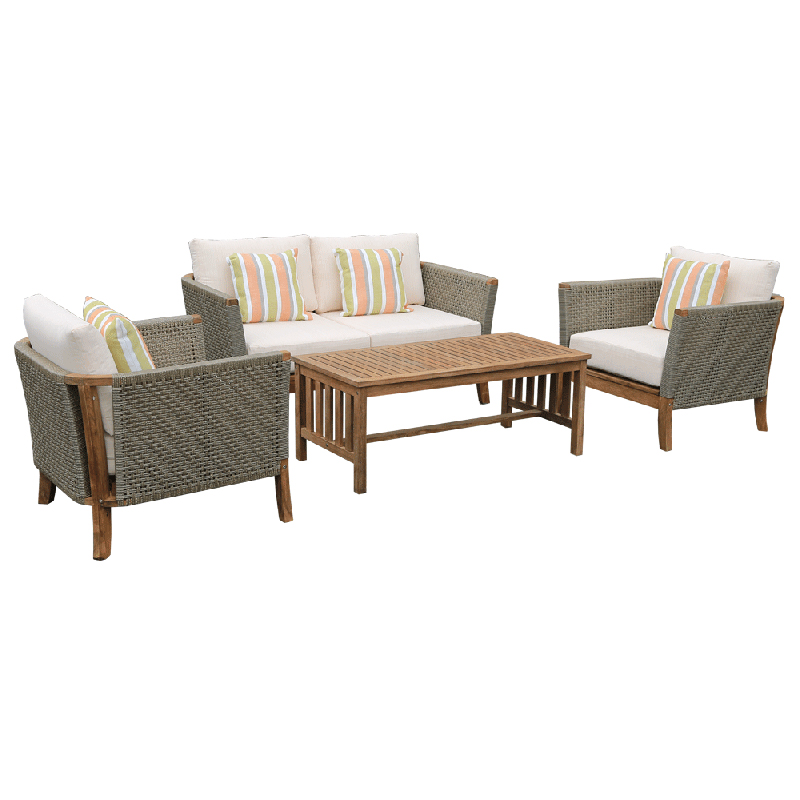 Classic outdoor 4 piece setting
$2,199.95
Installments by
available between $0.00 - $2,000.00 Learn More
Enjoy a cocktail by the pool while relaxing on the cushioned Classic Outdoor 4 piece setting .
European design, Outdoor furniture
Designed and manufactured to with stand harsh weather conditions
Eucalyptus wood
Wicker finish
100% polyester cushion
10 in stock
Description
Introducing The Classic Outdoor 4 Piece Setting.
Enjoy a cocktail by the pool while relaxing on the  Classic Outdoor 4 piece setting.
This European-designed collection uses Eucalyptus timber sustainably sourced.
Therefore its not only great for your backyard but also for the environment!
This setting is great for families, with a traditional shape and clean lines, its both functional and contemporary.
Perfect for entertaining, lounging by the pool or resting your freshly made nibbles on.
Above all, The classic style means this is the perfect outdoor setting for you.
---
Product Details.
Manufactured using Eucalyptus timber for a build that's strong, durable, lightweight and responsibly sourced.
Comprising of The Classic 2 Seater Sofa, Two Classic Sofa Armchairs, and The Classic Coffee Table.
This setting is Manufactured in Vietnam and Assembly is Required.
---
More.
Want a different style but the same value and full setting collection? Check out our Arizona 4 Piece collection.
To get style ideas from our range of outdoor furniture and to see the Classic Setting Collection in action, check out our Instagram at @QFurnitureAustralia.
Information
Shipping
We currently offer free shipping worldwide on all orders over $100.
Sizing
Fits true to size. Do you need size advice?
Return & exchange
If you are not satisfied with your purchase you can return it to us within 14 days for an exchange or refund. More info.
Assistance
Contact us on 61 3 9318 0058, or email us at customerservice@qtoys.com.au.